This short but true story that happened to me answers the question, "Can learning martial arts in Brisbane reduce bullying in school?"
"Why did you let that kid pick on Steve?" my father demanded, chastising me severely.
I couldn't tell him that I was afraid of the bully, so I said nothing and endured his anger.
The next time a bully picked on Steve, I stepped in and fought as my father had taught me to do.
"Why did you fight with that kid?" my father shouted angrily at me after getting off the phone with the kid's mother.
"He was picking on Steve," I said.
My father's face relaxed instantly, and he turned away. 
Interestingly, all the kids at school started treating my brother and me with respect after that. 
We both won many friends.
Now that I have kids, I understand that it's possible to deal with bullies non-violently from a place of relaxed self-confidence without fighting. But the ability to be calm and self-confident in the face of aggression comes from the sure knowledge that I can defend myself and my loved ones if I need to because of my martial arts training.
The Effects of Bullying in Brisbane schools
The Australia Covert Bullying Prevalence Study reports that bullying is "…affecting approximately one in four Year 4 to Year 9 Australian students (27%). Frequent school bullying was highest among Year 5 (32%) and Year 8 (29%) students."
Bullying in those age groups can be highly detrimental to child development. These children are very impressionable because they are grappling with adjusting to the maturation of their mental and emotional processes. They are also forming lifelong habits and ways of relating to others.
Bullying is a serious problem in Brisbane schools that has adverse effects on child development and parents. Bullying affects everyone. Kids who get bullied, kids that do the bullying, and kids that watch the bullying are all harmed. Then parents must deal with helping their children heal.
Kids who get picked on can suffer from physical, emotional, and mental health issues, including depression. They're also likely to experience poor social skills and weak academic performance.
Kids who do the bullying often engage in other violent or risky behavior. They are more likely to:
Become abusive toward others.

Abuse drugs and alcohol.

Get into trouble with the law.
Kids that watch the bullying can become prone to using drugs, alcohol, and tobacco. They also suffer a higher incidence of depression and anxiety and may take to skipping school.
Bullying can also result in severe expenses for schools. The elite Brisbane Grammar School was sued for $2 million because it allowed bullying to happen in school.
It's crucial for children to develop the skills they need to defend themselves along with the self-confidence, good social skills, and self-discipline they will need later in life. Becoming proficient in martial arts gives them all these essential skills.
The Results When Kids Learn Martial Arts Brisbane
Six years old is an excellent time to start Brisbane kids' martial arts classes, but younger children are welcome too in preschool classes for ages 3 – 5 years. In our after-school martial arts lessons, children learn crucial disciplines that will stay with them throughout their lives.
Physical coordination improves naturally as kids practice martial arts moves and techniques.
Improved concentration comes as the result of practicing sequences.
Respect for teachers and fellow students is built into martial arts systems.
Listening and learning skills grow as children observe their teachers and then put into practice moves they have seen and heard explained.
The advantages of teens learning martial arts in Brisbane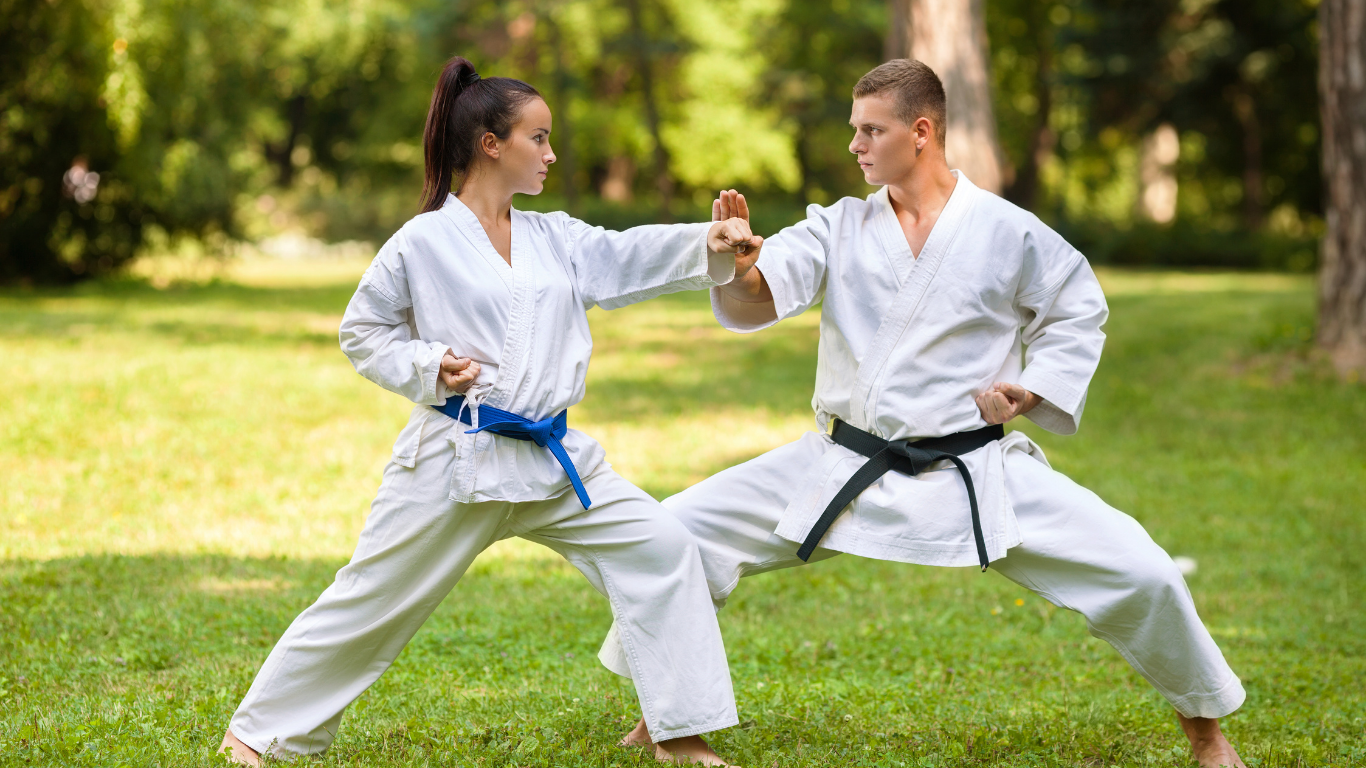 Anyone who's been around teenagers can tell you that they have a tremendous amount of energy to burn off. After a day of sitting in class, teen self-defense lessons in Brisbane give teenagers a healthy outlet for all that energy.
And parents have the relief of knowing that healthy kids' martial lessons fill the hours between getting out of school and dinnertime. Here are a few of the areas of teen development that we address at Focus Martial Arts Brisbane.
Non-violent conflict resolution is highly prized by our instructors. By focusing on self-defense, teenagers learn that violence should be avoided and only resorted to out of necessity.
Self-discipline is necessary to be successful in learning teen martial arts.
Life skills of goal setting and self-improvement are built-in to teen martial arts training through the ranking system. If a student wants the recognition of advancing to higher levels, they must discipline themselves to reach their goal.
The benefits of parents learning martial arts with kids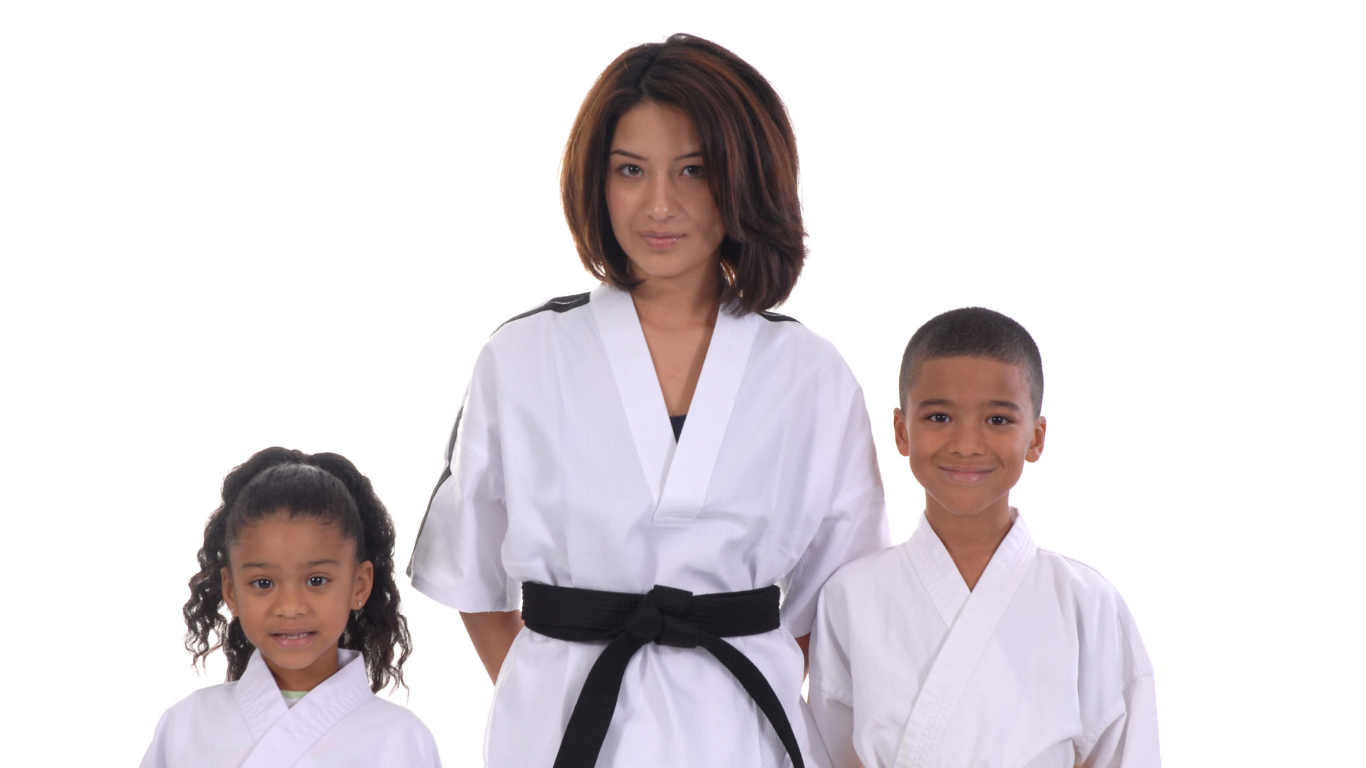 Entire families are increasingly coming to learn martial arts together at Focus Martial Arts School in Brisbane because of the innumerable benefits it brings.
In our Brisbane family martial arts classes, families learn how to have fun together while practicing self-defense, becoming physically fit, and growing self-discipline and self-confidence. 
Spending quality time together really changes families. They bond together and start solving problems together, developing trust in one another.
Unlike watching TV or playing video games together, learning martial arts as a whole family engages everyone on all levels. Martial arts practitioners grow physically, emotionally, mentally, and spiritually.
Several years ago, my good friend Joshua started taking Alicia, his young daughter, to karate classes. At first, Joshua was just the girl's taxi driver who looked on.
As Alicia advanced up the ranks in karate, Joshua and I noticed the positive changes in her and their relationship. Alicia became more confident, started making more friends, and became much more disciplined about doing homework and taking care of her duties at home.
Father and daughter became better friends.
Experiencing these benefits motivated Joshua to begin taking lessons. 
Today, Joshua still hasn't reached Alicia's black belt level, but he is progressing rapidly under his daughter's tutelage at his own pace.
(Names changed to protect privacy.)
What Is The Best Age To Start Learning Kids Martial Arts Classes?
Preschool Martial Arts Classes for 3, 4 & 5 Year Old Kids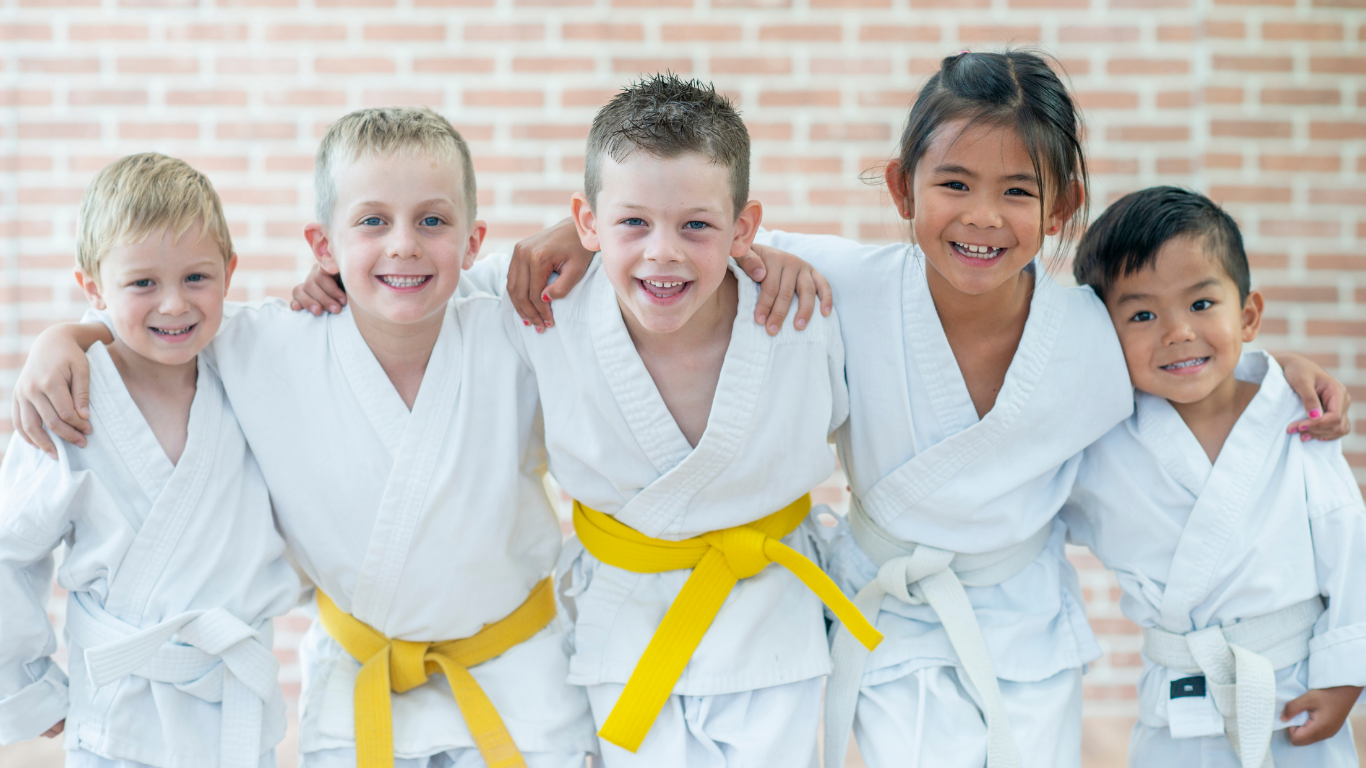 This is such a fun age. Their brain is learning and developing and the true benefit of martial arts classes at this age is to get them ready for school. Putting your little one into kids martial arts lessons that are specifically designed for this age group teaches them the skills to not only start school well but gives them an advantage. Preschool martial arts classes focus on:
Listening skills – to listen to the instructor or teacher

Focus and keep focus. To avoid distractions.

Hand-eye coordination. Helps with writing skills

Fitness, balance, and core strength training. Perfect for those little bodies.

Burn off excess energy. So they learn there is time for focused learning and time for play.

Taking turns and respecting others

Making friends
These are the skills focused on in martial arts schools that offer preschool martial arts classes. These family martial arts schools offer classes in Brisbane in a fun and friendly atmosphere. Get your preschooler ready for school and give them an edge TODAY!
Kids Martial Arts Classes Are The BEST After-School Activity or OHSC Alternative.
As we mentioned above, martial arts lessons can have a direct impact on your child NOT being bullied. The mental anguish of bullying can have negative lifelong effects. Not something any parent wants to risk.
The life skills and character development of Brisbane martial arts classes for kids go way above personal safety training if taught by experienced and passionate trainers. Many parents have their children learn martial arts as fun fitness training with physical and mental development.
They want their child to learn self-control in a supportive environment that is confidence building. Brisbane karate classes are teaching respect to kids that sometimes in today's world is lacking.
Brisbane parents are looking for more than just fun and games in an OHSC or after-school activity. Kids martial arts lessons are providing that continual learning of skills that will benefit the students for their whole life. Kids of all age and fitness levels are learning valuable self defense skills that puts FUN into physical training. Martial arts classes help kids learn about personal goals and building confidence while having a great workout.
When looking for the right martial arts centre whether the martial art is taekwondo, karate lessons, brazilian jiu jitsu, krav maga, mixed martial arts for self defence classes, you need to find experienced instructors that offer friendly classes in Brisbane for white belt beginner level.
When Choosing To Learn Martial Arts in Brisbane – Find a School That Focuses on Self Defence in Their Classes.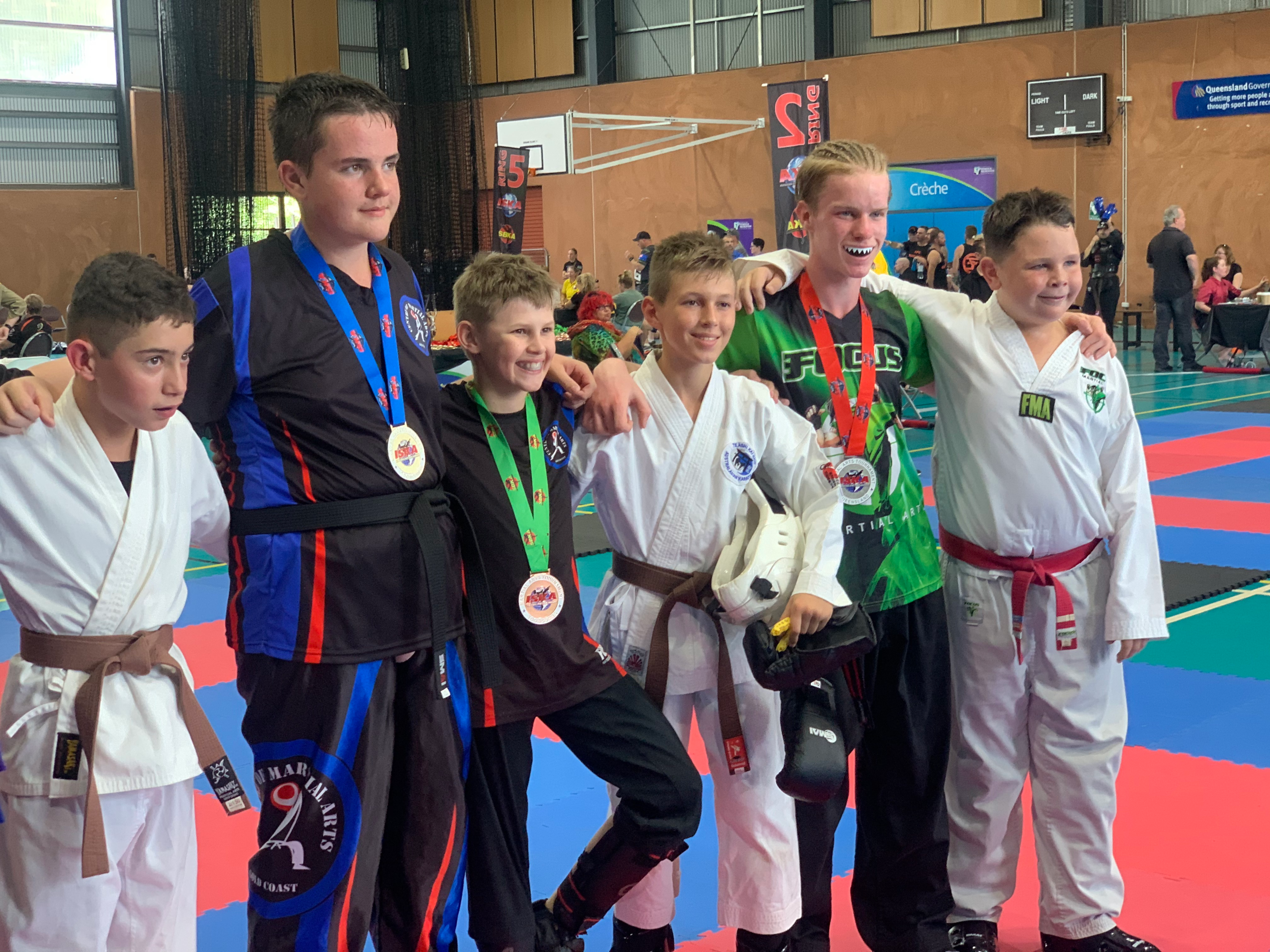 Focus Martial Arts School empowers whole families, enabling everyone to deal successfully with bullying in Brisbane schools. Our professional martial arts instructors are experienced martial artists that guide classes for all age groups and levels of ability, in a great atmosphere. Start training today, you will have so much fun!

We are here to help and answer any questions you may have about the martial arts journey, martial arts training as a whole family, or how self defence classes are ideal fitness classes.
Reach out HEREor call us on 0403 022 650 for martial arts classes in Brisbane.