What really is the difference between karate and taekwondo classes for kids? This is one question that we've been inundated with over and over again from our students and potential members. As you are most probably aware, they are both forms of martial art and, on the surface, the two of them appear strikingly similar in their poses and movements. At the Brisbane  Focus Martial Arts Academy, we teach karate and taekwondo for kids classes In this article, we give you a brief breakdown of the prime differences between taekwondo and karate for kids.
The Fundamental Differences between Karate & Taekwondo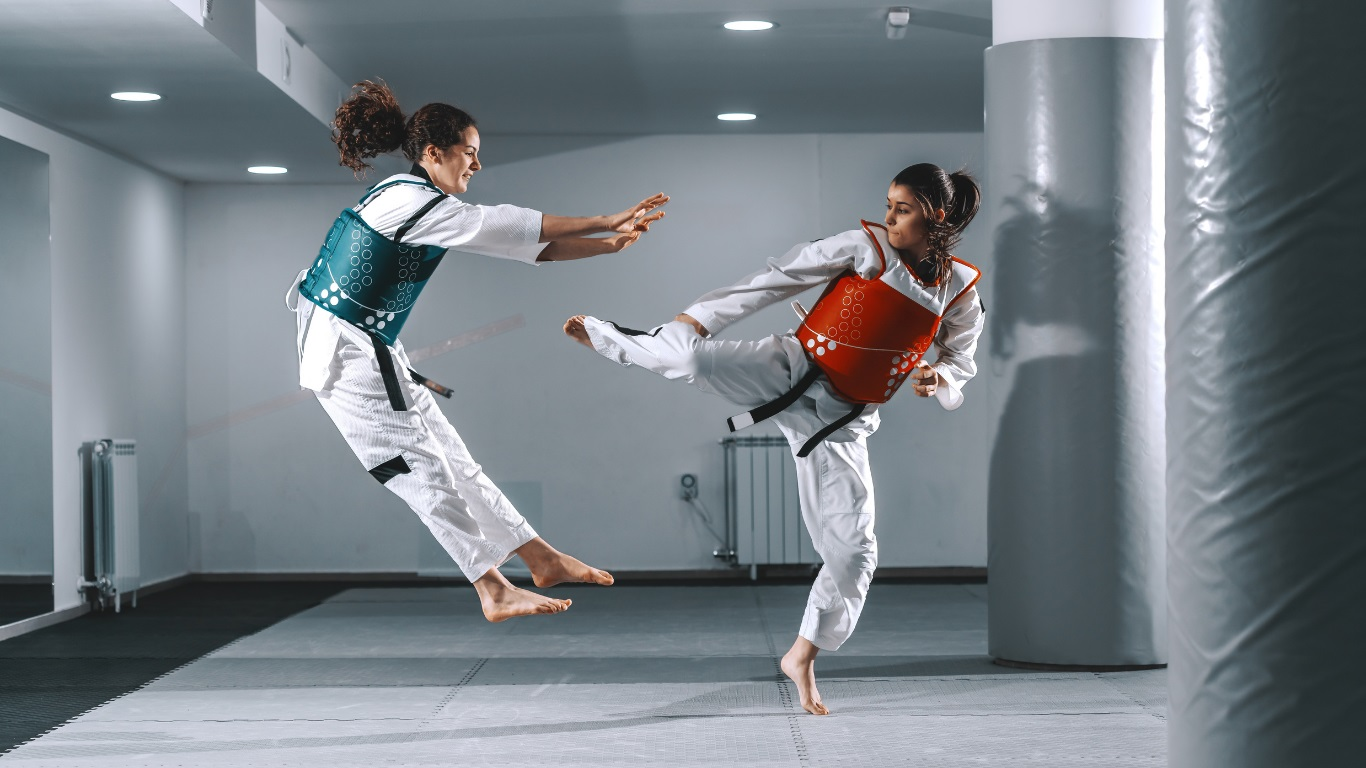 Firstly, taekwondo is a Korean martial art, while karate comes from Japan. In Australia, karate is generally more popular than taekwondo. Taekwondo is a martial arts form wherein kicking and footwork is particularly emphasized. Hand strikes and punches, for example, receive less attention in these classes.
On the other hand, karate classes 4 kids will emphasize open hand techniques, kicks, and strikes all at the same time, providing a more well-rounded experience. So, hand-eye coordination with legwork is likely to be more important to those hoping to succeed in karate than in taekwondo. On the contrary, a strong set of hamstrings and a natural penchant for reacting to an attack with kicks rather than punches may help one to succeed at taekwondo.
Which Martial Art Should You Choose?
Deciding between karate and taekwondo lessons for kids can be a little confusing. With the above information, you will find it easier to make this choice. There are some similarities between the two though. Neither karate nor taekwondo is 'grappling' styles of martial art, such as judo or Brazilian jiu-jitsu, for example. Also, both of these martial arts training styles will instill the desirable qualities of self-defense and confidence into your child. Both of these forms require a certain level of physical strength, unlike tai chi, for example. Tai chi is often labeled the 'soft' martial arts form. Only because it focuses on the mental training of practiced martial arts than the physical combat aspect.
The two sports also vary in the terms used for various items. For example, 'dobok' refers to 'uniform', and 'dojang' refers to 'school' in tae kwon do. However, in karate, we call a uniform 'gi', and the karate school is called a 'dojo.'
Prospects of Competing at an International Level in Karate & Taekwondo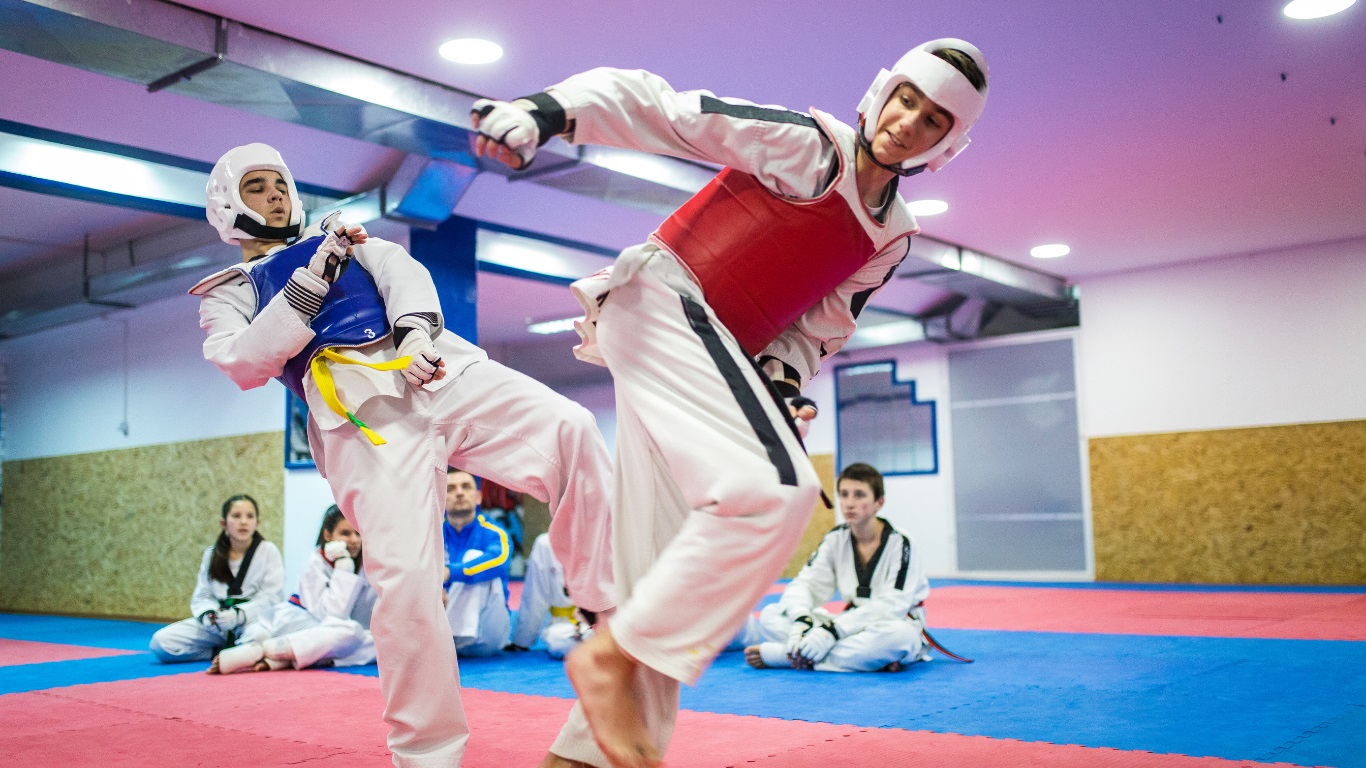 Taekwondo is currently an official international Olympics sport, while karate is not. In fact, the only form of Japanese martial arts that is currently a part of the Olympics in judo. Some parents of our current students have expressed particular interest in the prospects of training their child to a nationally competitive level, if possible.
In such cases, we recommend that you choose to enroll your son or daughter in taekwondo classes instead of karate. Whether you wish to disclose your intentions to your child or not is completely up to you. However, we have seen some children react positively to this piece of information. In turn, they display increased enthusiasm and vigor within their taekwondo classes.
We find many parents like that their child can just learn self defence and enjoy taekwondo classes for fitness, making new friends in a friendly and welcoming community. Parents look at the tae kwon do training session to build self-confidence and self discipline, and if their martial arts journey takes them towards competitions, they are happy they initially chose a martial arts school that also had that avenue to pursue. Just something to think about when choosing a suitable class at the right Brisbane taekwondo or Karate school for your child.
How Can You Enhance Your Child's Taekwondo or Karate Learning Experience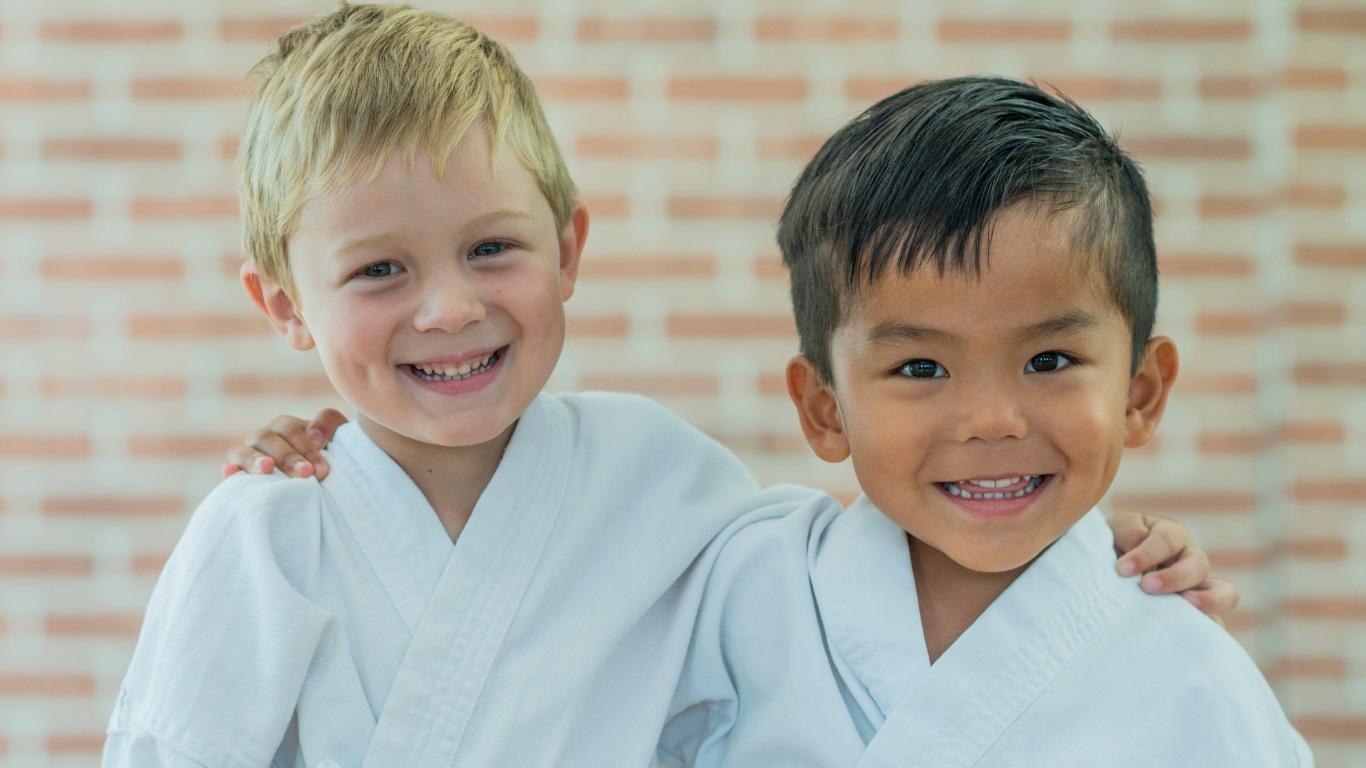 The earlier you start sending your children to regular martial arts lessons at a Brisbane taekwondo centre, the faster they will catch on with the ancient techniques of taekwondo or karate. Nevertheless, most of our students are able to demonstrate key stances and moves they've learnt within the first 3 weeks of attendance. Also, the best time to enroll them is when they are 3 to 6 years of age. As children grow older and reach puberty, boys tend to exhibit increased enthusiasm for karate classes while most girls will shy away from it. However, if you get both your female and male toddlers enrolled at our academy at the innocent age of 3 to 6, they will not feel the awkwardness or gender divide quite as much when in class.
Of course, starting early also means that your kids will require extra support from you, their guardians, in order to master the complicated moves and actions of taekwondo. For example, mastering a hook kick spin often requires our students several weeks of practice both in class and at home. Also, we encourage you to keep in mind how every child is different from the rest of his or her siblings.
So, while one child is ready to embark on his taekwondo training journey at 4 years of age, the other may not be ready till a few years later. This is just one of the reasons Focus Martial Arts offers a FREE Trial.  The first class is an assessment class, so our experienced instructors can determine which martial arts class style and time would be best and to determine if your child is actually ready to start taekwondo, karate, or martial arts classes. Often, when children foray into our karate classes before they are ready mentally and physically for it, you will find their enthusiasm to learn dipping drastically over time; so much so that they begin to dread the next scheduled class. We really don't want that to be happening!  Our goal is to build their confidence, not hinder it.
Benefits of Taekwondo Training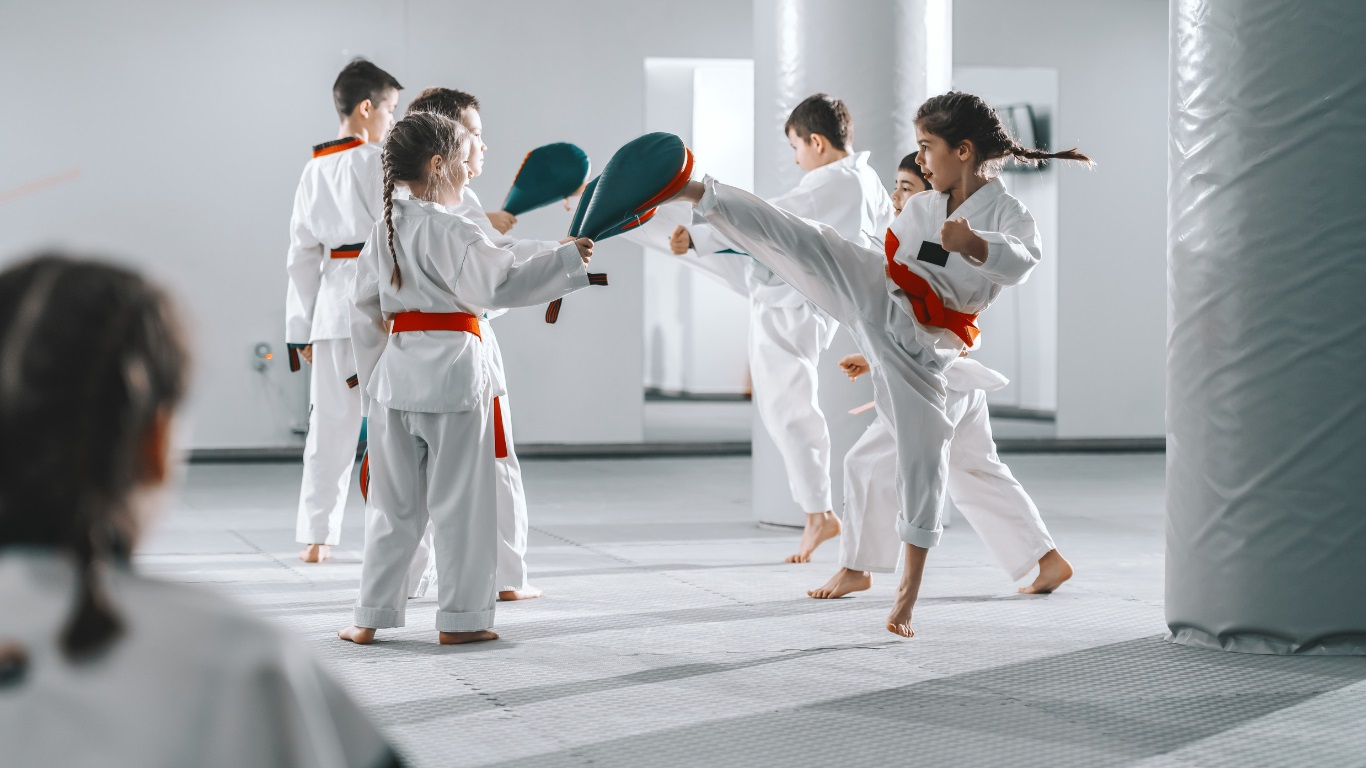 Within days to weeks of enrolling into our taekwondo Brisbane classes, you will witness a significant change in how your child handles his or her body, as well as in their attitude towards other human beings. For instance, confidence and coordination seem to shoot through the ceiling for most of our students. As their stamina and physical capabilities improve through taekwondo training, they also start to excel at other sports activities, such as cricket, basketball, and football.
From Day 1, we teach our students in their taekwondo class about the importance of discipline and respect for one's own physical body as well as towards that of others. In fact, the character development aspect of taekwondo and karate is what really sets it apart from other social sports. With their newly learned self-defense moves, they now know exactly how to protect themselves if, for example, someone grabs them from the back on a deserted road.
However, we do encourage that you reinforce to your kids that they must place their own safety first when they find themselves in such a situation. The first reaction should always be to shout and yell for help from a nearby parent, policeman, or teacher. After all, violence is one element that is not encouraged in our taekwondo Queensland classes.
Contact us for Your FREE TRIAL Class Today!
Taekwondo Brisbane Classes are More Than Just Self Defence
Attending karate or taekwondo classes at their local karate school is a fantastic pastime activity that both children and adults thoroughly enjoy. And the bonus outcomes of martial arts training is something that an experienced taekwondo practitioner or Black Belt truly understands
Most of our clients have enrolled their kids in Focus Martial Arts courses for various purposes, such as:
Increasing physical fitness level and physical strength
Sharpening hand-eye coordination
Learning practical self defence for dangerous situations
Mastering self discipline and respect for others
Building self confidence to assist in combating peer pressure or bullying
Increase positive thinking and self belief
To toughen up in today's world
To have positive role models
Learn self control and master anger issues
All of this is achieved in a supportive environment, with quality teaching for all fitness levels. Try taekwondo sessions for yourself. We also offer great family discounts.
Is Taekwondo Better Than Karate?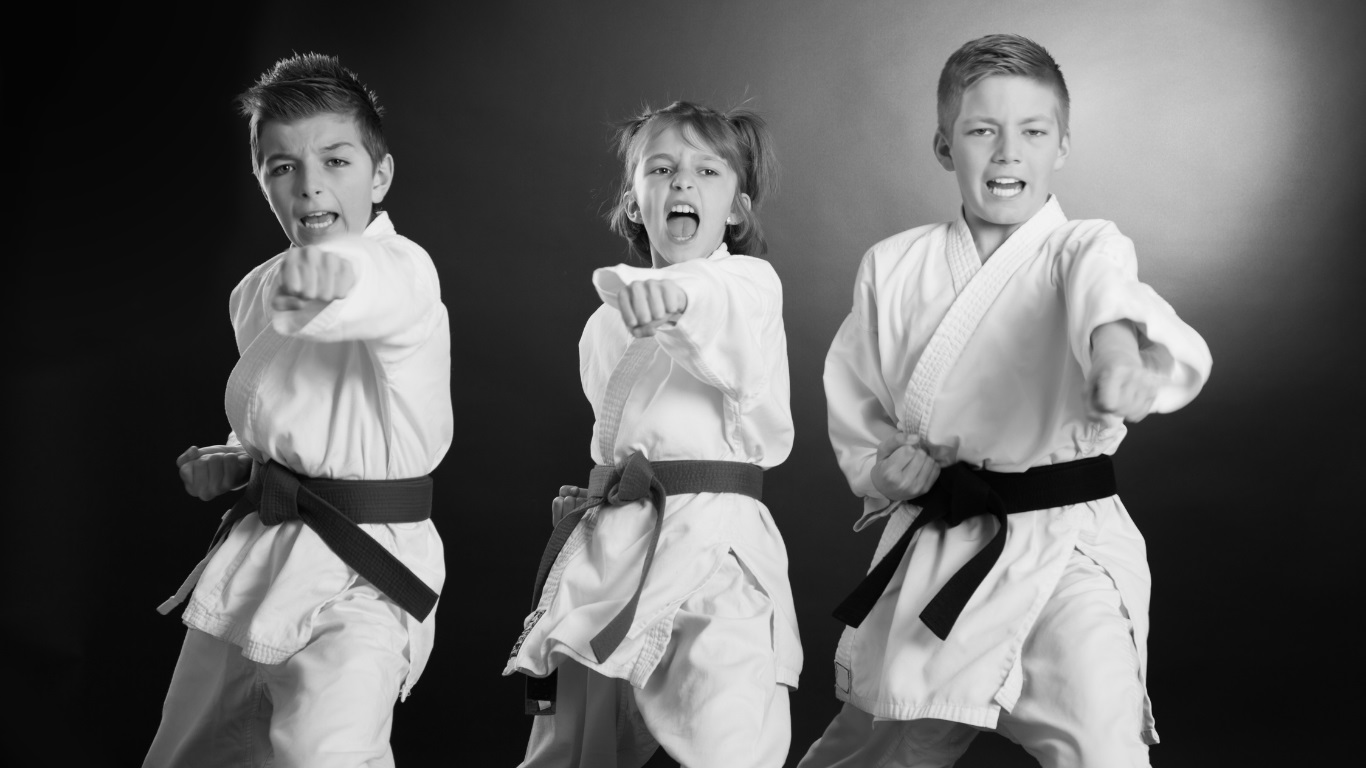 It is best practice to practice karate to develop more balanced, full-body skills. If you are interested in learning quick and elaborate kicker movements, taekwondo can be a good alternative. In reality, choosing a Taekwondo school or a Karate school should come down to which one you feel fits you. Which Instructors or martial arts school community do you feel most comfortable in. As to whether Taekwondo or Karate is better – really it comes down to which one you use will be the better one when you need to protect yourself. How can you learn martial arts?
Martial art brings with it a whole treasure chest full of benefits for your child. The priceless lessons your child will learn in taekwondo class will help them through the rest of their life.
What is the best age to learn Taekwondo or Karate?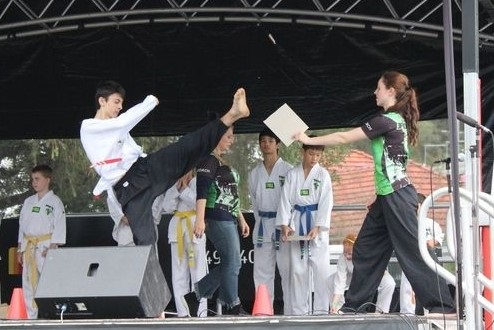 Usually, children are ready for their first Taekwondo classes as early as 5 years old. For younger kids, introductory preschool martial arts classes like Little Ninjas or Little Samurais are most suitable. These preschool karate classes focus more on balance, coordination, listening skills, hand-eye skills, core strength, and fun! These are the important skills that preschool-age children need to focus on before taking on the more skilled techniques taught in Taekwondo or Karate training. It's here that the lessons move more towards the self defence aspect
Is It Too Late to Learn Taekwondo at 16?
Teenage years are a great time to start learning martial arts. Any age from 3 to 93 is a perfect time to let martial arts take you mentally, physically, and socially to a whole new level. Particularly with teenagers, martial arts classes are a great environment to have your child embrace.
The teenage years come with a lot of development, both mentally and physically. Many teens and their parents, find it challenging and confusing. These young adults are trying to find their path to adulthood. It's a time in their life that positive role models have such an impactful influence. So parents can help direct and guide their influential teenagers by enrolling them into taekwondo Brisbane or karate classes and find their taekwondo Instructor to be that positive role model.
Parenting teenagers is difficult. Many parents are finding the friendships their teen builds in martial arts classes to help with self-esteem issues and for them to build confidence to handle any challenging or bullying situations in a strong and positive manner.
Finding a Fun Family Environment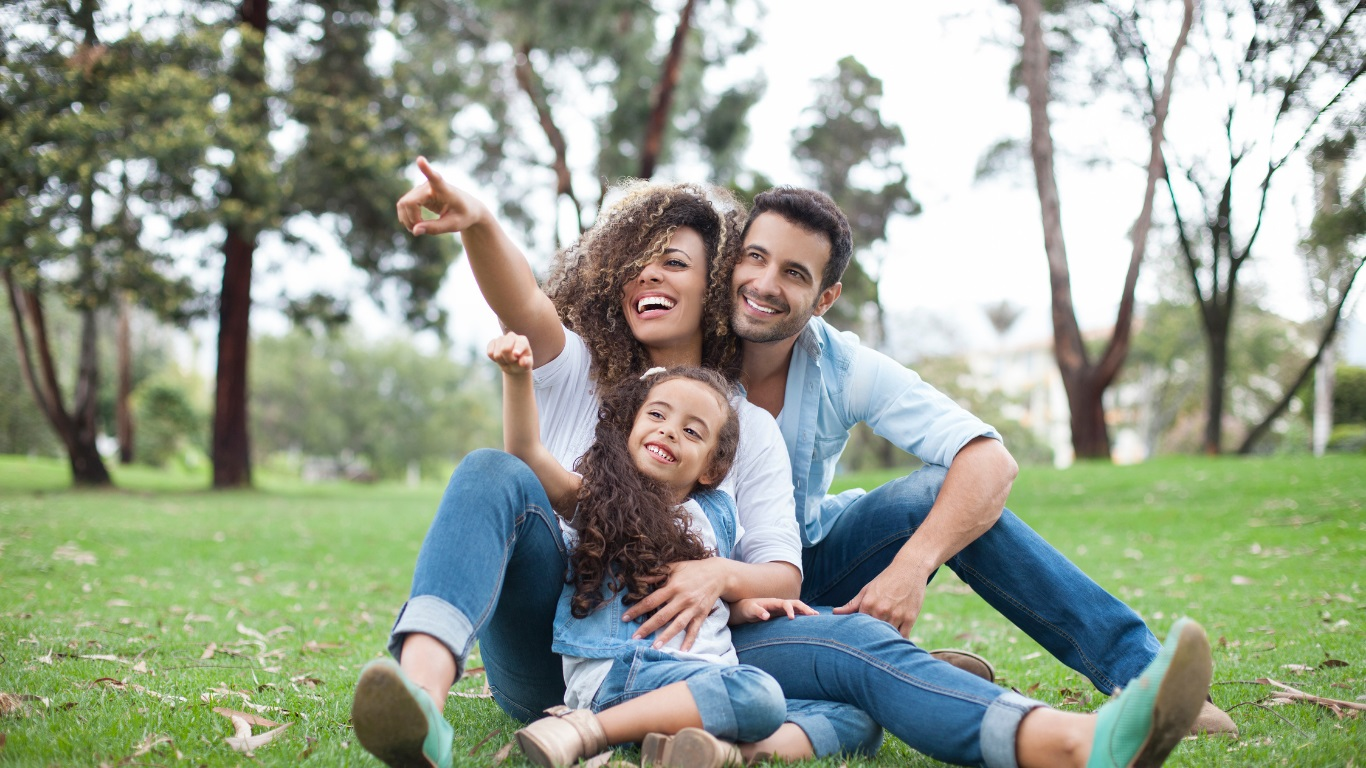 The life-long benefits of martial arts lessons far outweigh those of most other after-school activities. In today's world, parents and families are busy. They don't have the time to attend numerous extracurricular activities.
Try A Martial Arts Class Today!
For more information on our Brisbane taekwondo centre classes for kids that are exclusively run by our professional, qualified instructors that offer classes in karate and taekwondo, please contact our customer service team at the Brisbane Focus Martial Arts Academy.